Well, one week of NBA basketball is behind us and it is time to put out my first Power Rankings of the season. Sorry, but I do things a bit differently. I am not going to rank all 30 teams in the league. That is simply a daunting task. I mean, writing something about the teams ranking in the twenties just seems counter-productive. Those teams suck or are just not very good. I would rather focus on the Top 10 teams in my Power Rankings, so that is what you will get. I will rank the Top 10 teams in my opinion as of this moment and then I will give you 5 teams that are honorable mentions. I hope you enjoy.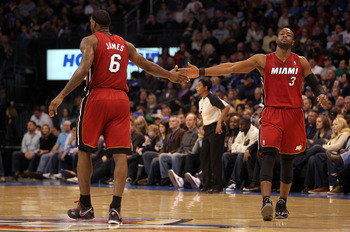 1. Miami Heat (4-0)
It is hard to pick another team to insert in the top position. They took out the Champion Mavericks on opening day and then the Celtics two days later. LeBron James is leading the league early in scoring with 33 points per game and looks primed to have yet another MVP-like season. However, I would be a bit concerned as a Heat fan with their last two very close wins against the Bobcats and Timberwolves. Perhaps it was a matter of the Heat playing down to the competition, but you would like to see them bury teams like that to send a message.
2. OKC Thunder (4-0)
Maybe there is a rift between Durant and Westbrook, or perhaps it is just the media blowing things out of proportion once again, but regardless, the Thunder are looking very good early on. Nice wins against the Mavs, Grizzlies, and Magic put the Thunder in a close second in my rankings. Kevin Durant has picked up right were he left off last season averaging 31 ppg, 4.5 apg, and 7+ apg. Westbrook on the other hand has had a much shakier start to the season scoring only 15 ppg with 5 apg, while shooting only .333 from the field. However, James Harden has stepped up and put up some nice numbers.
3. Portland Trail Blazers (3-0)
This has been a surprise team for me early on. Brandon Roy retires, Greg Oden sits out another season, and LaMarcus Aldridge has heart issues. That is not the best set of news for Portland fans heading into a new season. However, we all knew Brandon Roy was never going to be an impact player again and we certainly knew that Greg Oden was never going to be the player most thought he was going to be, but the Aldridge news was a punch to the face. But it looks as if he is alright after all as he is leading this solid squad of players that has 6 players averaging over 10 ppg. The pick up of Gerald Wallace is looking smarter and smarter every day.
4. Chicago Bulls (3-1)
The Bulls opened up the season with a come from behind win over the Lakers in L.A. They then followed that up with a sloppy loss to the Warriors. As a Bulls fan I was not liking what I was seeing. The Bulls could easily have been 0-2 at that point. The issue was Derrick Rose not attacking the basket. He was playing outside and trying too hard to get everyone else involved. As soon as Rose started playing the game the way he does best, the Bulls started firing on all cylinders. Boozer, Rip, and Deng started getting tons of open shots and the Bulls began to look like the Bulls of late last season. This all climaxed last night when the Bulls took out the Clippers on the road with Derrick scoring 29 points with 16 assists and 8 rebounds.
5. Atlanta Hawks (3-0)
Sure their wins have come against crap teams, but they are not just winning against these games, they are pounding these teams. The margin of victory over the last 3 games has been 20.33 points which leads the league by a mile. However, the Hawks are a team that needs to be tested for sure. Every season it seems that they go on some nice runs, but never really win against the elite teams in the league. Maybe this season will be different. They seem to have some depth and a good ammount of scoring with 8 players averaging over 9 points per game. Still not sure if Joe Johnson is worth the crazy money that was thrown at him and he is going to have to play like an Allstar if this team is going to go anywhere this season.
6. Indiana Pacers (3-0)
The Pacers are one of the more gritty teams in the league and play with a ton of energy. They could certainly pull off a upset come playoff time. They have started the season quite well and should finish 2nd in the Central. Psycho T is going to have a great season as he is already averaging a double double and I only see his scoring going up. Danny Granger is the pivot guy on this team. His play will determine how far this team goes. If he settles for a ton of outside shots then the Pacers will be in trouble. Paul George is my player to watch early on in the east. He has a crazy upside.
7. Orlando Magic (3-1)
Is he coming or is he going? This will be the story of the 2011-2012 season in the NBA, because Dwight Howard can turn about any team into a contender. Heck add him to the Raptors and they would make the playoffs. Right now the Magic look pretty good as is, but they just are not elite and Dwight wants to win titles, so I see him leaving one way or another. As for now, Magic fans need to soak it up while they can, because Superman is leaving.
8. San Antonio Spurs (2-1)
They are old and they are savvy and they still know how to win. I am not sure if they will lead the west in wins this season or not, but they look more then able to make a nice run at it. Wins over the Clippers and Grizzlies show that the old guys can still knock down the younger teams. Manu looks to be the only real star left on this team as Parker and Duncan continue to fade.
9. L.A. Lakers (2-2)
They opened the season with a tough loss to the Bulls followed by a nasty loss to the Kings. However, they seem to have turned things around and just took out the Knicks in a 99-82 victory. The Lakers are a veteran team and they should conitnue to get things in order as the season goes on. The real nice thing to see is that Kobe looks to be in great shape and has some nice lift in those legs of his.
10. Denver Nuggets (2-1)
This team still has the parts to be a success even without Melo. Andre Miller is still dishing out the assists and Nene is scoring in the paint and cleaning up the boards, but the big surprise is Ty Lawson averaging 22+ points and 4 steals per game. The Nuggets really needed someone to step up and take over the scoring void and Lawson looks to be that answer.
Honorable Mentions
Boston Celtics. Pierce is back and the Celtics will surely turn things around and make my Top 10 rankings soon enough.
New York Knicks. Way to much talent on this team for them not to be much better.
GS Warriors. Curry and the Warriors looked really good against my Bulls and I figure they will only get better as things move forward.
Memphis Grizzlies. Some losses will not make me not believe that this is not an up and coming elite team.
NO Hornets. No Paul, No problem. Hope everyone added Eric Gordon to their fantasy team.
If you found this post interesting please consider either subscribing via RSS, becoming a fan on Facebook or Google+, or following us on Twitter.