As another off season of College Football material kicks off, this year marks the third year I'll throw my hat in the ring and look at a number of topics and categories. In the process I'll look to do everything from predicting next year's 25 best teams, identify the games of the year, narrow down the Heisman field, identify those replacing 2012′s stars and ultimately make predictions for each league, culminating in a national championship pick. They'll be many things I'll be ridiculed for. There will be a number of things that will surprise some people. Ultimately you'll come away from the next 6 months of material as ready for the college football season as I can possibly make you. While I'll be sure to miss on things I would like to remind the skeptics I did correctly predict the same number of bowl teams preseason as Phil Steele a year ago as well as top him in BCS Bowl participants predicted before the year. Nonetheless I'm not putting out any magazines soon so keep buying his for the top preseason coverage available.
The key in any top 25 poll is understanding the premise on which the poll is based because not all top 25 polls are built the same way. Some people choose to rank teams 1-25 based on where they think teams will be ranked at year's end. If they think a team will lose 5 games they won't rank them. While that may seem logical I've never been a proponent of that style of poll and it has never been, nor will ever be, how I choose to do my top 25 polls. My polls reflect the 25 teams entering 2013 who I think are the top 25 teams on a neutral field if the country played a round-robin. If a team is likely to max out at 7 wins that doesn't give me the urge to rank a nine-win team over them if the nine-win team is from a much weaker league. With that covered, let us continue the top 25 for 2013 as the official kickoff of the off season coverage here at The Sports Headquarters.
*Returning Starters Figures from Phil Steele's Blog
Teams already ranked:

#25. Fresno State Bulldogs
#24 Vanderbilt Commodores
#23 USC Trojans
#22 Miami Hurricanes
#21 Ole Miss Rebels
#20 Boise State Broncos
#19 Wisconsin Badgers
#18 Oklahoma Sooners
#17 Florida State Seminoles
#16 Northwestern Wildcats
#15 Oklahoma State Cowboys
#14 Louisville Cardinals
#13 Florida Gators
#12 TCU Horned Frogs
#11 Notre Dame Fighting Irish
#10 LSU Tigers
#9 Clemson Tigers
#8 South Carolina Gamecocks
#7 Texas Longhorns
#6 Georgia Bulldogs
#5 Texas A&M Aggies
#4 Stanford Cardinal
#3 Oregon Ducks
#2 Ohio State Buckeyes
Coming in at #1….
Alabama Crimson Tide
2012 Record: 13-1
Conference Finish: 1st in SEC West (Won SEC Championship Game over Georgia)
Bowl: Won National Championship 42-14 over Notre Dame
2013 Returning Starters: 6 offense, 7 defense
2013 Offense
For the second year in a row the Alabama Crimson Tide hold down the top spot in the TSHQ Preseason top 25 and despite picking LSU to win the title last year the Crimson Tide enter 2013 as the favorite to claim the last BCS title of this horrendous system's era. With that said some have the Tide as a runaway number one and while I understand the sentiment as I've made clear a few times to this point, I think you can take the top six (MAYBE seven) in my poll and put them on a different pole from the rest of the country. With that said, while you can shuffle them around a bit, I don't think there's any team that is definitely ahead of Alabama. Given their dominance the past four years and the fact Nick Saban patrols their sideline, the best coach in college football, that should be a legitimate tiebreaker over any of the other challengers for number one.
A.J McCarron is not Tommy Frazier. He's not Andrew Luck. Hell he won't even be considered the best quarterback in the country by anyone this year, yet with two national titles on his resume' and a chance for a third, McCarron has a shot to become a college football legend. While some would snicker and argue he was just the guy taking snaps for a juggernaut, three national titles in four years would put the finishing touches on a terrific career. He may never be a big armed, stat-producing quarterback but his progression from 2011 to 2012 can't be debated as not only did his passing yards and yards per attempt improve but his TD:INT ratio was a fantastic 10:1 and he saved some of his biggest moments for the big stages, none bigger than his game-winning drive at LSU that was the difference in them going to the SEC title game and being home awaiting an alternate bowl selection. McCarron is as proven as anyone in college football and should simply do his job at a high level again.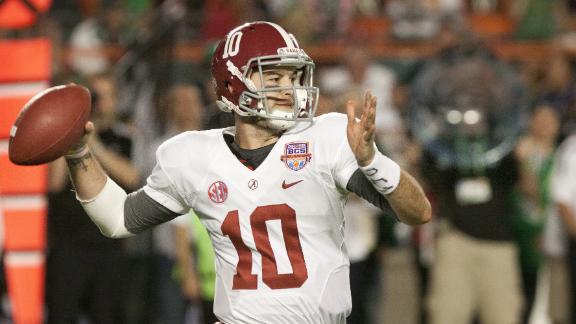 Mark Ingram. Trent Richardson. Eddie Lacy. In 2013 it will be a phenom sophomore who was a major producer as a freshman a year ago and finished on a high note with great performances in the SEC title game against Georgia and the national title game win over Notre Dame and that is T.J Yeldon. Yeldon becomes the new starter and instantly one of the top backs in college football with a chance to follow in the footsteps of the last few elite backs. While he may not be running behind an offensive line as talented as last year's, the machine that is the Alabama running game should be a key in a 1200 yard season bare minimum barring injury. Saban and the Crimson Tide have shown to lean mostly on one or two backs the past few seasons so expect Yeldon to carry a heavy load and get the production of a number one back. Kenyan Drake is the second leading running back coming back this year, however it is the freshman Derrick Henry who has gotten rave reviews from his limited time in spring practice before fracturing his leg. Nonetheless he is expected to be ready for the start of the season and Nick Saban made no secrets they expect him to "help them in some ways" in his freshman season.
With the dominance of the running game last year that featured two 1100 yard backs, it is understandable why the receiving numbers on the Crimson Tide might not jump off the page. Yet to think that the Tide lack outside play-making ability would be to sell short the talent Alabama's offense has assembled. As a freshman Amari Cooper exploded onto the scene as a downfield threat and A.J McCarron's go to guy in crunch time. Cooper's 59 catches, 1000 yards and 11 touchdowns led the Tide's receivers in all three categories and solidified him as a standout wide receiver in the SEC heading into 2013. In all the top three pass catchers from last season all return giving the Tide a combination of talent and experience that is tough to find in an era where many talented eligible prospects leave early. Not to be overlooked are Kenny Bell and DeAndrew White, two receivers who are coming back from 2012 injuries and in the case of White seemed poised for a strong season before blowing out his knee early in the year. With a strong spring performance, the hope in Tuscaloosa is he can pick up where he left off last year.
Perhaps as hyped an offensive line as we've seen in a long time, the Crimson Tide will have some holes to plug up front in 2013, a year after a season where they solidified themselves as one of the greatest offensive lines the sport has seen. Barrett Jones was a standout offensive linemen throughout his Crimson Tide career and left as a player Saban raved about as one of the best he's ever coached. Add in D.J Fluker and Chance Warmack and you have concerns about replacing so much talent. Still, like any good machine there's new parts waiting to be implemented that will key another stellar 2013 line. Anthony Steen, he of no sacks allowed and no penalties in 2012, and Cyrus Kouandjio are the lone starters coming back. Replacement candidates include Cyrus' younger brother Arie, center Ryan Kelly, Leon Brown who comes over as a junior college transfer, Austin Shepard and Kellen Williams. Do you question the next group of starters? I don't either…onto what should be another stout defense.
2013 Defense
Alabama reloads, they don't regroup. That's been the case for years and despite a few losses this offseason one has to think the Crimson Tide defense should be revamped and ready to go come the season opener in late August. A year ago I was talking in one part of my offseason previews about the Alabama linebacker core and the guys that would be asked to replace the Donta' Hightowers and Courtney Upshaws of the world and while last years group of linebackers may not have been as good as 2012's, the level of play was still high and was again a significant catalyst for the team on its championship run. With a stout defense and run game, it's hard to bet against Alabama when the season kicks off. Lets see what faces will be the next to try and make their names remembered in Alabama history.
The defensive line didn't have the elite talent some are accustomed to from Alabama and yet at the end of the season the results were the same. The Crimson Tide finished as the number one run defense in college football and the number one overall defense in the country. Jesse Williams, Damion Square and Quinton Dial are all gone from the defensive line and while none of the returning players have eye popping stats, there's a combination of youthful talent and experience in this group. Ed Stinson and Jeoffrey Pagan are the two most productive linemen back with Stinson putting up a respectable eight and a half tackles for a loss with three sacks. Brandon Ivory is another who got some playing time a season ago and figures to factor heavily into the rotation according to Bama reports. Five freshman in this year's class ranking as four or five stars show more talent is being stashed in the cupboard by Saban as well.
C.J Mosley was the face of the Alabama defense in 2012 with a team high 107 tackles, 48 more than any other Crimson Tide defender and after skipping the NFL Draft to come back for his senior season will be one of the top linebackers in the country. His production and impact on the Alabama defense needs no further introduction and he solidifies the four-man unit with his ability tackle, make plays in the backfield (8 TFL, 4 sacks) and defend the pass (2 INT, 4 PD). Adrian Hubbard and Trey Depriest both also return to the linebackers core giving Alabama three upper classmen who played key roles at times for the Tide in 2012. As a result this unit should be the strength of the Crimson Tide defense and given the style of play in the SEC puts Alabama in good position to once again be among the best defenses not only in the SEC, but the entire country.
The back end of the Alabama defense is where two of the biggest hits come from. Dee Milliner left early for the NFL after serving as one of the country's elite corners with a staggering 22 passes defended a season ago. Though as we've seen in recent years, Saban generally plugs another star in that becomes a first round pick. The other notable loss was a personal favorite of mine from watching Alabama games, Robert Lester who was a tough safety on the back end of the Tide defense last year. Vinnie Sunseri and Haha Clinton-Dix are both back while Deion Belue represents senior leadership in the secondary who had a pretty strong junior season last year.
There's few weaknesses in the Alabama defense going into 2013 and after 25 teams and way too many words to get through them all, I won't waste anymore time picking and choosing the small ones.
Schedule
I don't like to chalk a season up to one month and considering LSU sits later on down the road I won't say it's simply a one month season but September should tell us what to make of this Alabama team. Virginia Tech in the opener would've been a bigger challenge in past years but there's nothing the Hokies bring back from last year's team that makes anyone question the Tide's chances there. Then after a bye Alabama plays maybe its biggest game of the year in College Station vs Johnny Football and the Aggies seeking to revenge last year's home loss. Whoever win gains a key tiebreaker early in the year and will need two losses by the other team to get back into SEC Championship Game contention. It will be very interesting with the bye week leading into that game and a whole year to breakdown tape (and does anyone doubt Nick Saban has already started?) what adjustments Alabama makes to defend the Aggies. At the end of the month you get an Ole Miss team I've already ranked this preseason and think could be a candidate to trip up one of the big three in the SEC West. After September ends, it's pretty much smooth sailing.
There's not one game in October that Alabama won't be a three-four TD favorite in and anything less than a double digit win in any of those games would be surprising given what we know/expect from those teams and Alabama. Then the second big one looms with LSU on November 9th. Last year Alabama needed a last minute touchdown drive to escape Faux Death Valley with a win and while LSU has significant turnover and question marks, if the Tigers live up to the potential I think they still have, they should be roaring and ready to go by November. After LSU the Tide finishes the regular season with three very winnable games. In a potential SEC Championship Game if Alabama qualifies could be Georgia, South Carolina or possibly even Florida. Nonetheless it would be one more steep test before a *likely* spot in the BCS Title Game if Alabama wins the SEC again.
Send all complaints to @BDohertyCFB and go follow the site twitter feed at @TSHQsportsblog for sports coverage all over as well as plain tom-foolery content.
With the TSHQ Preseason Top 25 now complete, we tally the teams by league affiliation:
SEC: 8
Big 12: 4
PAC12: 3
ACC: 3
Big10: 3
MWC: 2
Big East: 1
Ind: 1
Took a long time. Hope you learned something from the whole list. Finally I get to move forward with the rest of my offseason coverage. Next up we identify 10 teams who are expected to have a more happy Saturdays in 2013 than was the case in 2012. It's the "Ten Teams on the Rise" topic.